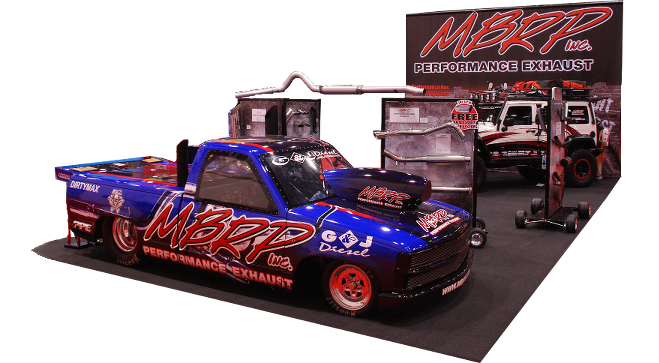 Feb 3-11: Ultra4 King Of The Hammers
JOHNSON VALLEY, CA: Hammerking Productions is pleased to announce that 2017 dates have been secured for the Nitto King of The Hammers presented by Optima Battery. The 11th annual KOH week will commence with Hammertown opening to the public on Friday February 3rd, 2017 and will continue through Saturday, February 11th, 2017. The actual King of The Hammers race will take place on Friday, February 10th, 2017. All races from 2016 are expected to return for 2017 including: The Smittybilt Every Man Challenge, Polaris KOH UTV Race, Klim King of The Motos, and Vision X Shootout.z "KOH 2016 was our biggest and most succesful King of The Hammers to date. We look forward to continuing that momentum into 2017." said Hammerking founder, Dave Cole, who went on to say, "It is our goal to release dates as early as possible to give teams and fans plenty of time to prepare for their annual trip to the lake bed." With 2017 President's Day falling later in the month of February, Hammerking moved the race back to it's traditional place in the first full week of February. The last few years, opening day crept into late January due to President's Day taking place earlier in February. The holiday is one of the largest recreational wheeling weekends in Southern California, and KOH Week must be completed prior to holiday weekend. About King of The Hammers: King of the Hammers is considered the toughest one-day off road race in the world. It is the largest off-road race event in North America in terms of both competitors and spectators. It combines desert racing and rock crawling, and has expanded from one race to a series of 5 races held throughout the week and takes place each February in Johnson Valley, CA.


Feb 25th: Keystone Big Show East
WHAT ARE THE BIG SHOWS Don't miss out on the best show in the industry. The Keystone BIG Shows are the best trade shows in the specialty automotive equipment and accessories industry, outside of SEMA. The Shows are organized by Keystone Automotive Operations, the leading distributor and marketer of specialty aftermarket auto parts in North America. What are the BIG Shows Together with manufacturers, retailers and the Keystone sales and marketing team this Show offers a relaxed, interactive environment with exciting opportunities to connect, share and discoverAs a customer or supplier, there are many reasons to attend/exhibit at our Shows. Keystone's BIG Shows consistently provide an engaging forum for our customers to see new products first-hand and learn detailed product information directly from suppliers and manufacturer representatives. As an attendee or exhibitor, there are many reasons why the Big Shows are for you: New Products... Exhibitors' booths abound with the hottest new products and applications Purchasing Deals... Exciting buying opportunities and promotions translate to greater profitability and marketing ideas Business Building Ideas... Learn about strategies for growing an effective business with the use of eKeystone and Keystone's marketing programs Networking... Collaborate with shop owners, industry professionals, brand reps, as well as Keystone Automotive sales and staff Custom Vehicles Everywhere... Get inspired by hot new products and vehicle trends in action Giveaways... Valuable prizes are given away throughout the event


March 2-5: NMRA Spring Break Opener
The NMRA blasts into the 2017 season with guns blazing, starting the year off right at Bradenton Motorsports Park in Bradenton, Florida, over the weekend of March 2-5, 2017. As the traditional jumping-off point for the NMRA season, Bradenton always brings record-setting weather and a great racing surface to the NMRA competitors. The NMRA Keystone Automotive Ford Nationals Series has a little bit of everything for the racing fan all weekend long – from the hardcore VP Racing Fuels Street Outlaw class that features insane turbo – and supercharged door-slammers, to the heavy hitters of the Edelbrock Renegade class shooting for glory with their state-of-the-art small-block Ford engines. Fans and racers alike wait all winter for this event to take place, so make sure you've got your seat in the stands to witness it all! Have a Quick Street Mustang?…Cruise it! Then Prove it on the Track! QA1 True Street Presented by Muscle Mustangs has been one of the most popular drag racing classes in the United States. With easy-to-follow rules, True Street has everything from mild to wild, and beginner to seasoned racer. The event begins Saturday with a 30-mile escorted cruise with other True Street racers to prove the street worthiness of all cars entered in the competition. Next, everyone hits the track for three back-to-back passes, with cash and awards presented immediately following the event. TREMEC Stick Shift Shootout – Long-time NMRA True Street supporter, TREMEC has announced that they will once again hold the Stick Shift Shootout at the Spring Break Shootout to determine who has the fasted manually-shifted street Mustang in the U.S! Watch as over 120 entrants battle for top True Street honors, with the fastest 8 stick cars receiving a special shootout plaque to recognize their prowess. From there things will heat up as the quickest two manual-equipped vehicles will have an all-out slugfest with a 'winner takes all' heads-up finale for the chance to take home a brand new TREMEC transmission of choice! On Sunday, The Muscle Mustangs Spring Break Shootout class, gets cranking as the fastest 16 cars from Saturday's True Street competition compete heads-up for even more cash, prizes and magazine coverage. To be eligible for the Spring Break shootout, competitors must meet True Street rules and make all three passes on Saturday. The top 16 cars will be placed on a Sportsman ladder and will race with a 4/10 pro tree.