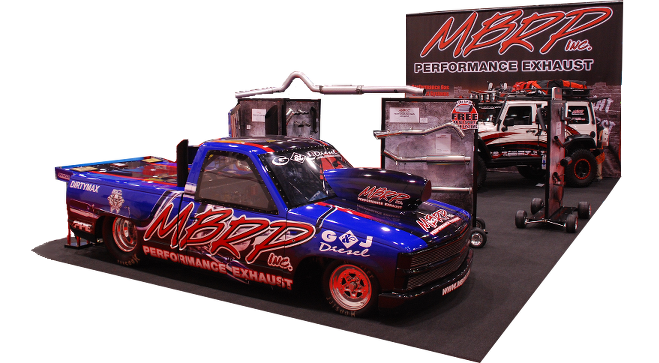 FEB 24th - DALLAS TEXAS
Keystone Automotive Warehouse BIG SHOW WHAT IS THE BIG SHOW? Don't miss out on the best show in the industry. The Keystone BIG Show is the best trade show in the specialty automotive equipment and accessories industry, outside of SEMA. The Show is organized by Keystone Automotive Operations, the leading distributor and marketer of specialty aftermarket auto parts in North America. WEATHER GUARD booth at the BIG Show Together with manufacturers, retailers and the Keystone sales and marketing team this Show offers a relaxed, interactive environment with exciting opportunities to connect, share and discover. As a customer or supplier, there are many reasons to attend/exhibit at our Shows. Keystone's BIG Show consistently provides an engaging forum for our customers to see new products first-hand and learn detailed product information directly from suppliers and manufacturer representatives. As an attendee or exhibitor, there are many reasons why the BIG Show is for you: New Products... Exhibitors' booths abound with the hottest new products and applications Purchasing Deals... Exciting buying opportunities and promotions translate to greater profitability and marketing ideas Business Building Ideas... Learn about strategies for growing an effective business with the use of eKeystone and Keystone's marketing programs Networking... Collaborate with shop owners, industry professionals, brand reps, as well as Keystone Automotive sales and staff Custom Vehicles Everywhere... Get inspired by hot new products and vehicle trends in action Giveaways... Valuable prizes are given away throughout the event


MAR 1-4th NMRA Spring Break Shootout Bradenton FL
24th Annual Nitto Tire NMRA Spring Break Shootout Presented by Steeda Autosports • Bradenton Motorsports Park, Bradenton, FL The National Mustang Racers Association (NMRA) is proud to announce its official schedule for its 20th Anniversary series tour in 2018. The largest all-Ford motorsport series features an exciting line-up of drag racing classes, car shows and special events. The 2018 NMRA Ford Nationals series includes six events starting with the 24th Annual Nitto Tire NMRA Spring Break Shootout, presented by Steeda Autosports, held at Bradenton Motorsports Park, March 1-4, 2018. The season will conclude with the 20th Annual Nitto Tire NMRA All-Ford World Finals at Beech Bend Raceway, September 27-30, 2018. The popular NMRA series exhibits steady growth year-after-year due to dedicated Ford fans, racers and solid track partners across the Midwest and East Coast. "We're thrilled with our 2018 season schedule," said Rollie Miller, NMRA General Manager. "It will be an exciting season that also includes events at Atlanta Dragway in Commerce, Georgia, Maple Grove Raceway in Reading, Pennsylvania, National Trail Raceway in Hebron, Ohio, and our annual Nitto Tire NMRA/NMCA Super Bowl of Street-Legal Drag Racing that rewards the winning team with prestigious Nitto Tire Diamond Tree rings at Route 66 Raceway in Joliet, Illinois." Top-10 and championship awards will be presented in Street Outlaw, Renegade, Coyote Modified, Limited Street, Coyote Stock, Factory Stock, Open Comp, Modular Muscle, Truck & Lightning, Super Stang, and Ford Muscle. Additionally, True Street will be a featured category at every event with its world-famous 30-mile cruise and three consecutive runs down the drag strip. Since 1999, the NMRA has brought Mustang and Ford fans the #1 All-Ford Motorsport Show. NMRA events offer the most competitive grassroots all-Ford drag racing combined with large sized all-Ford car shows, manufacturers' midways, burnout contests, and street racing categories, specialty classes, celebrity appearances and more! If you're not a fan of the NMRA Facebook page, you're missing out on all the fun. Race, show or spectate… you'll experience the best Ford racing on the planet at NMRA events.


MAR 3-4th Competition Specialties MEGA SHOW Seattle, WA
It's that time once again to start preparing for THE event of the year, the 2018 Competition Specialties MEGA SHOW!! Filled with the latest products from over 130 vendors, this is the place to be to find out information on the newest accessories in the industry. Over 3,500 jobbers attend the Competition Specialties Mega Show throughout the course of the weekend, viewing the latest trends and speaking directly with the manufacturers. The Competition Specialties Mega Show is the largest order writing jobber show in the country! Important Notes: The 2018 Mega Show is Saturday, March 3rd from 11am to 5pm, and Sunday, March 4th from 10am to 4pm. A FREE shuttle will be running between the Auburn, WA warehouse and the Seatac Double Tree by Hilton Hotel both days. The Seatac Double Tree by Hilton Hotel is located at 18740 International Blvd., Seattle, WA 98188.